Most of us can't afford to waste $50,000; or if we can afford to waste this much, the money would be better spent elsewhere, but, when contamination is discovered property owners can find themselves liable for costs associated with investigation and cleanup.  Read the full article published in the latest edition of CMBA Mortgage Finance News Here.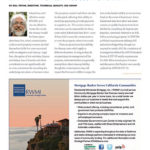 About the Author:  During his thirty years in the industry, Bill Tryon has developed risk management policies and procedures for one of the world's leading real estate lenders and has participated with governmental agencies to refine policies and requirements. Bill has developed a reputation for risk-based problem solving and excellence. As a leader in developing due diligence practices, many of his innovations and refinements have become common practice in the industry.
Prior to GRS Group, Bill served for 20 years as Senior Vice President of Construction and Environmental Services at Wells Fargo Bank. During his tenure, he participated in the EPA's negotiated rule-making process to define "All Appropriate Inquiry" and consultation the U.S Small Business Administration and Office of Thrift Services concerning environmental due diligence requirements. Bill also developed, managed and approved of Corporate Credit policies governing construction and environmental due diligence.